Food is a big part of my life and not in the way you might think. I was raised by a family of cooks; my Chinese grandparents owned a Chinese restaurant and my dad has been a professional cook for all of his adult life, with his parents' owning a neighborhood burger joint. Growing up, I'll admit, I was embarrassed of my restaurant roots — it wasn't always white chef coats and Michael Mina-worthy presentations. This is why I cringe when someone calls me a foodie: I like to eat, but I don't like the pretentiousness that comes with the term. I'm not turning my nose at micro-greens and foam essences — I like avocado toast and kombucha as much as the next Millennial but, I'm also not ashamed to say I love Spam and American Cheese (not together, but could be interesting). 
I've been wanting to start posting my recipes, but have always talked myself out of it because 1) I didn't know if anyone would be interested (though, this was thrown out the door when 95% of my Instagram Story viewers voted yes to more recipes) and 2) time. With a full-time job, social life, fur baby, and loving boyfriend, I was worried I'd start something and give up because there isn't enough time to pursue my both of my passions; style and food. This is why I'm looking to you all to hold me accountable and push me to post more of these (if you enjoy it, of course). 
After this, I'll get into the actual recipe, but I just wanted to note that I use recipes to guide my cooking, not dictate. While I take the proportions into consideration, I rarely follow the exact measurements. To quote my father, "I don't like baking — too much measuring. With cooking, everything is to taste, make it your own."
Chicken & Butternut Squash Egg Drop Soup
Ingredients + full recipe below!
Aside from salt & pepper (and the above), I always add garlic and onion powder to the mix.
I sliced the Trader Joe's butternut squash cubes into slices for quicker and more even cooking time. I also removed the thick stems from TJ's prepackaged Tuscan Kale pack — there's nothing worse than gnawing on an nasty tough stem.
Not for the garlic-faint-of-heart. The original recipe called for one clove of garlic — IMO, the more garlic the better, so I chopped up one pre-peeled pack (roughly 8-10 cloves). I add a small amount of garlic throughout the cooking process. 
After the garlic and onion, add the squash and broth. Simmer for 5 mins and poke the squash with a fork to see how "done" it is. 
When the squash remains firm, yet can slide off the fork with a quick jolt, it's time to add the kale. Cook the kale and add more garlic for about 5 mins.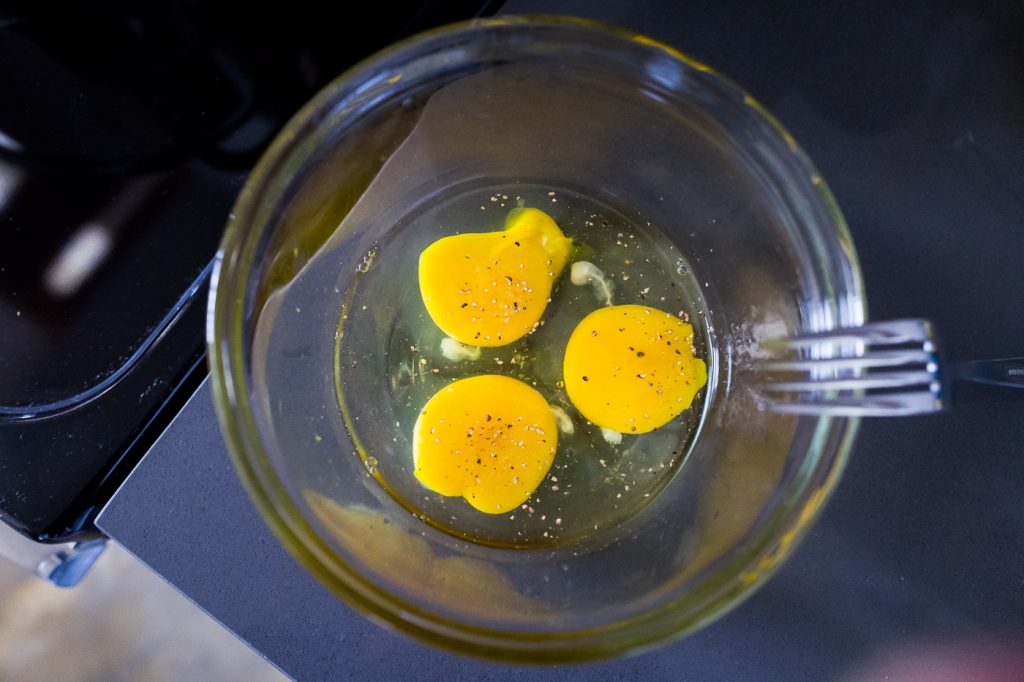 So the original recipe says to whisk the eggs, however, in my experience slash cooking next to my grandma as a kid, egg drop soup does not require whisking. Whisking the egg makes a weird wet scramble. If you simply break the yolks and swirl the mixture into the soup, you'll get a nice stringy texture as opposed to a clumpy cloud-like texture. 
Seasoned with light salt & pepper, I swirled the broken yolks and egg whites into the soup.
When everything is just about cooked, turn off the heat and add the shredded rotisserie chicken.
Recipe
2 quarts chicken broth
2-3 cups shredded rotisserie chicken
2-3 cups butternut squash
2-3 cups kale
3 eggs
3-4 tablespoons garlic
1/2 white onion
1 tbs red chili flakes
1 tsp garlic powder
1 tsp onion powder
salt & pepper to taste
Once the butternut squash can slide off a fork with little force (not overcooked), stir in kale and more garlic to taste. Cook for 5 mins. Stir, add more salt, pepper, or chili flakes as needed. Stir the soup and as the liquids are moving pour in the broken yolks + whites (seasoned lightly with salt & pepper). Swirl the soup and egg mixture together, then turn off heat. Add shredded chicken and stir.
This recipe was inspired by the bon appetit  Butternut Squash and Kale Stracciatella recipe