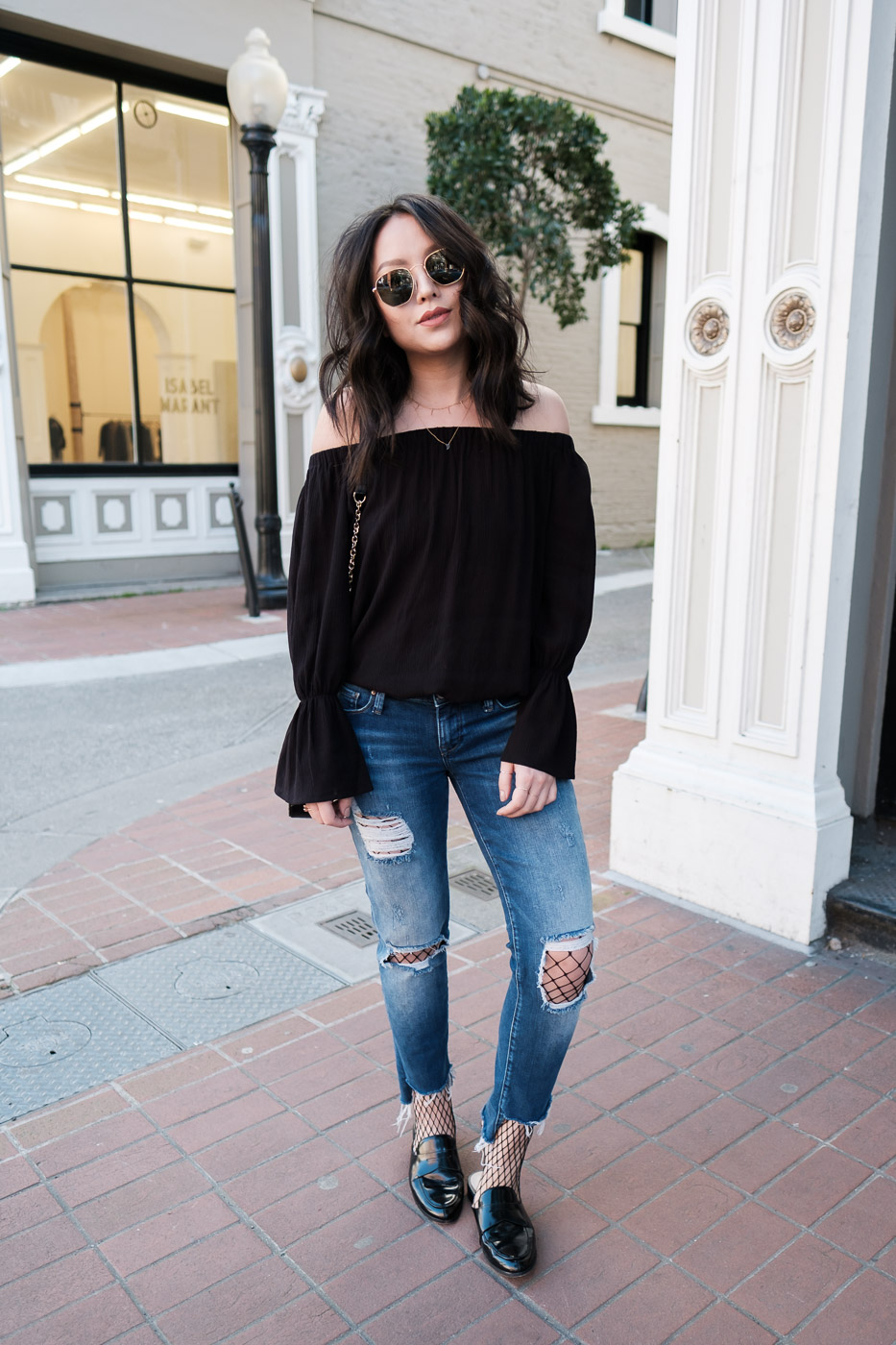 Outfit Details
Oh la la, fishnets! I'll admit, I wasn't immediately drawn to the trend when I saw it on street style stars and celebrities alike last fall. I didn't hate it, it just didn't do anything for me. Since I've been trying to add a little oomph to my everyday denim looks, I thought the barely-there stockings look was worth I try. When these arrived in the mail, I opened the package and showed Tyler. He immediately stuck them on his head and demanded my money. Robber jokes aside, he didn't question the denim x fishnet combo, so I thought it must have looked somewhat decent. 
Here's 5 tips to tackling the fishnet tights trend:
Budget: You don't need to splurge! I haven't found a ton of fashion options online yet, but they're definitely out there in all price ranges. I found affordable ones on Amazon and TopShop (these are only $6!).
Denim: Pair them with relaxed denim, like boyfriend jeans. The sultry meets masculine feel gives off all the vibez—also, it'll feel way less restricting than layering them under skinny jeans. 
Length: Show off your fishnets with overly distressed jeans or cropped hems, like kick-flares or step-hems.
Tops: Keep the rest of your look simple so the pieces in your outfit don't compete with each other. I went with a solid off-the-shoulder top with a bell-sleeve. Next time, I think I'll try this look with a button-up shirt or plain tee. 
Shoes: I know some say you can wear tights with open-toe shoes, but I haven't gotten quite there yet. I really like the look of fishnets with closed-toe mules, booties, and sneakers.