What I'm Wearing:
Vince Slip Dress via Stitch Fix, J.O.A. Sweater thanks to Sweet & Spark, Kenneth Cole Kam Sneakers, A.P.C. Geneve Bag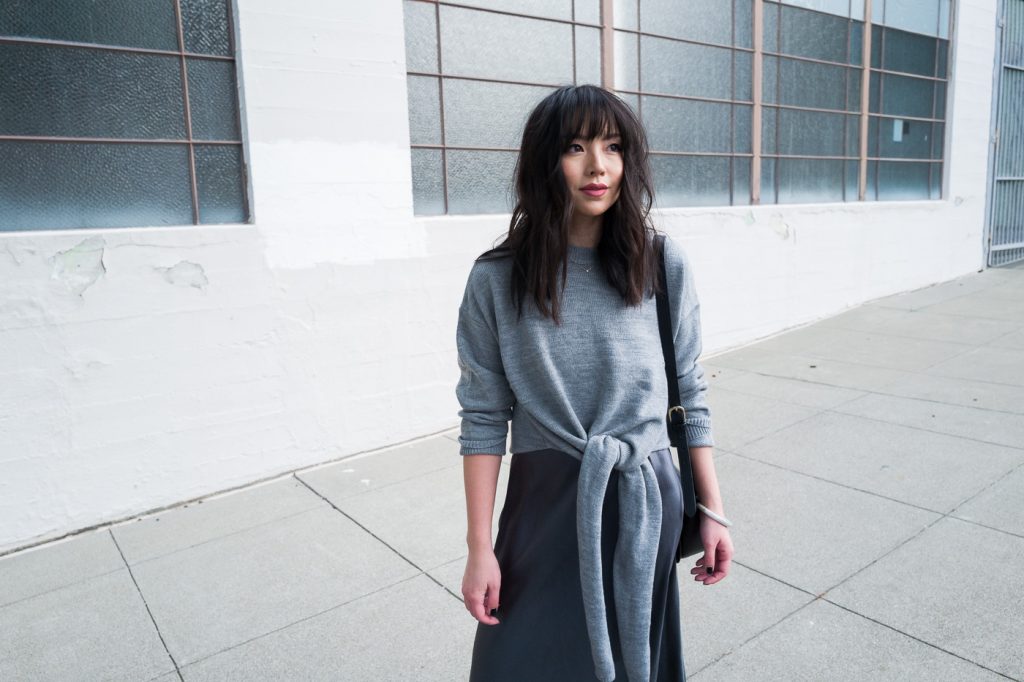 Outfit Details
It took me a few tries to find a top that fit perfectly over this midi dress. It was difficult to find a layer that wasn't too long, too bulky, or all of the above. After trying it on with every sweater I own, I finally narrowed down a few combinations I liked the best. Here are a few characteristics I gravitated towards:
Waistbands: A tie-waist top like the one I'm wearing from Sweet & Spark, creates a shape and allows you to adjust the fit and lenght of the sweater. This style may be less common, so instead, try a cropped sweatshirt with a defined waistband. This gives shape to a normally straight silhouette.
Cropped Hemlines: I slipped on a long oversized sweater and it made me feel shorter. Heeled boots definitely helped, but I knew I'd be doing a lot of walking, so sneakers were a must. A shorter top, gives your bottom half the illusion of a long and lean frame.
Oversized Silhouettes: I ended up liking the combos where my top was oversized. I thought the proportions looked best when they were short and wider than the skirt of the dress. For a more fitted look, try layering a long sleeve turtleneck under the midi instead.